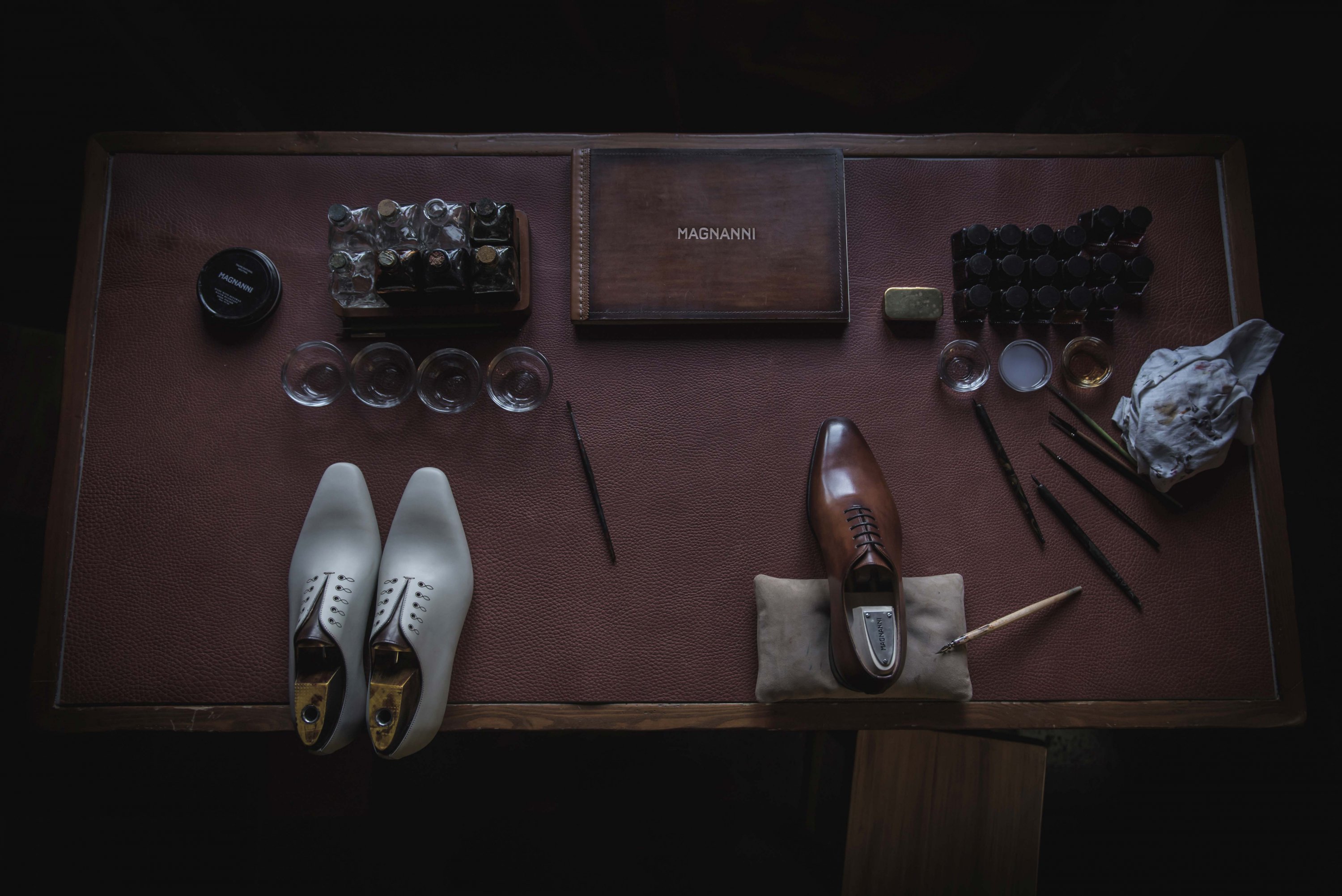 Magnanni
The famed men's shoes brand Magnanni is known for it's impecable hand made shoes. Their longstanding family traditions started three generations ago. Many hands touch every pair that goes through our factory to ensure quality.
They were one of the very first shoemakers to take natural leather shoes and dye them by hand to achieve what is now known as patina. Each pair of beautifully marbled shoes goes through several steps of color treatment resulting in a finish that is never duplicated.
In our store you can find the largest up-to-date Magnanni selection in Belgium.
Magnanni
20089 BOLTAN CAOBA COGNAC
€320
Magnanni
14804 371-M-E-D BUTERLIGHT CONAC
€280
Magnanni
15330 270-BOL LEEDS AZUL
€295
---
Magnanni
17962 442-M-E ARCADE CUERO
€260
Magnanni
18604 443 ARCADE CONAC
€280
Magnanni
18604 443 DELAVE BLU
€260
---
Magnanni
18827 448 BOLTAN MARRON
€295
Magnanni
19052 442 ARCADE CAOBA
€260
Magnanni
19613 461 BUTERBLADE NEGRO
€260
---
Magnanni
19802 479 BOLTAN AZUL
€260
Magnanni
19802 479 BOLTAN CONAC
€260
Magnanni
20109 THUNDER CROSTA NEGRO
€260
---
Magnanni
20109 THUNDER CROSTA CACAO
€260
Magnanni
20124 270-BOL LEEDS NEGRO
€310
Magnanni
20124 270-BOL LEEDS CAOBA
€310
---
Magnanni
20157 482-BOL LEEDS CAOBA
€320
Magnanni
20164 475-BOL LEEDS TABACO
€295
Magnanni
13232 Arcade NAVY
€265
---
Magnanni
18457 HAYES NAVY
€285
Magnanni
19615 Boltan TINTO
€250
Magnanni
17757 Leeds NEGRO
€335
---
Magnanni
17757 Leeds MARRON
€335
Magnanni
17713 Winds NAVY
€300
Magnanni
17713 Arcade CONAC
€300
---
Magnanni
17567 Leeds NEGRO
€275
Magnanni
17567 Leeds CONAC
€275
Magnanni
17465 Arcade NEGRO
€300
---
Magnanni
17465 Arcade CONAC
€300
Magnanni
17464 Wind CAOBA
€300
Magnanni
17464 Arcade NEGRO
€300
---
Magnanni
16372 Antihumington MARRON
€265
Magnanni
16372 Antihumington CONAC
€265
Magnanni
15745 Buterlight GRIS
€270
---
Magnanni
15476 Ante Cabra NEGRO
€250
Magnanni
15362 Wellington NEGRO
€270
Magnanni
15362 Wellington MARRON
€270
---
Magnanni
15330 Antihumington CONAC
€270
Magnanni
15330 Wellington NEGRO
€275
Magnanni
15330 Wellington CONAC
€275
---
Magnanni
15141 Arcade TABACO
€270
Magnanni
15141 Arcade NEGRO
€270
Magnanni
13232 Arcade CONAC
€265
---
Magnanni
12796 Antihumington CONAC
€230